While reading The Inklings on paper (and a fascinating reading it is, although I wish I were able to increase the font size, the print is really small), I discovered a new favorite crime writer and series on Kindle: the Lei Texeira series by Toby Neal.

Last year I grabbed as a freebie, the second book in the series, Torch Ginger and I liked it enough to make a note of the author's name. A couple of weeks ago the first book, Blood Orchids went free as well and went straight to the top of my TBR list, as soon as I finished it I bought and read the third novel Black Jasmine and now Mrs. Neal is on my auto-buy list.

To be clear : the Lei Texeira books aren't cozy, the crime there is serious and bloody and the books deal with pretty serious issues, what I love, though is that nothing of it feels gratuitous (or, even worse, voyeuristic) and while there are no easy answers there is always the hope and the possibility of meaningful ones.

The series is set in Hawaii and the local culture is a very important part of the books, one element I like very much is that the author (herself a resident in Hawaii), doesn't exoticize the place at all, she strikes a very good (and difficult) balance between treating the reality of the islands as 'normal everyday' and explaining enough of it that somebody not familiar with the setting may make sense of the whole.

The main character, Leilani (Lei) Texeira is interesting and intriguing, has a very distinctive voice and a lot of demons she tries to deal with on a daily basis while doing her job the best she can. Lei is the daughter of a drug addict and a survivor of child abuse who still has flashbacks and moments in which she 'blacks out' in response to triggers (be warned, the content of the books my be triggery in itself). She is a complex individual and I found her reactions and voice very believable.

Mrs. Neal (a therapist herself) treats touchy topics with sensitivity and depht and is careful to avoid the trap of the 'miracle cure' that is seen way too often. For instance: falling in love and entering a relationship doesn't solve Lei's troubles, rather it adds another layer of complexity to her behaviour towards people. She is used to being alone and indipendent (" no one will love damaged goods / I don't need anyone") and simple things like letting her partner know where she goes often either chafe or slip her mind althogether (which brings in another, if small, load of guit for not being able to behave 'like everybody else').

For all this, though, the Lei Texeira books aren't bleak or depressing, far from it, people have agency, there is friendship and support and a lot of humor, and I really like how the anchor for Lei, in many occasions is her dog, Keiki (and the fact that Keiki is a Rottweiler, a breed that gets way too much bad rep, in my opinion).

I also held Mrs. Neal and Lei Texeira responsible for the newest addition to my hobby list:

Moth orchids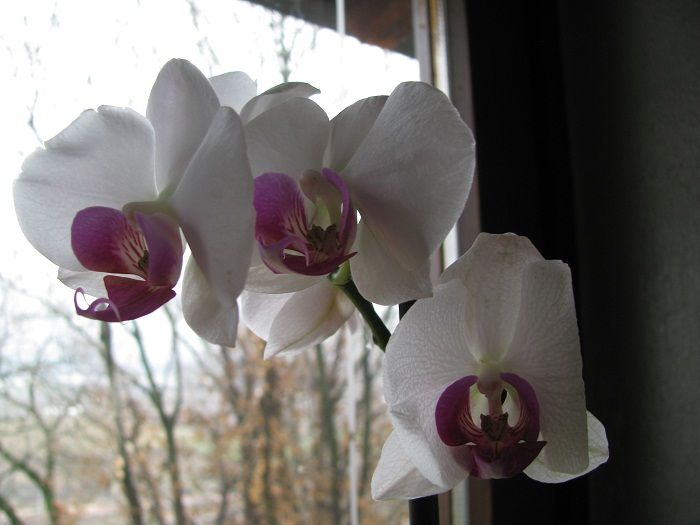 ...I had never been tempted by Nero Wolfe's orchid growing.

One last note to readers who prefer supporting indies, Mrs. Neal is one.